DULUTH, Ga. – Founded in 2004, Crown Asset Management, is a professional receivables management firm that outsources purchased accounts to a nationwide, proprietary network of collection agencies and law firms. Utilizing a cutting-edge predictive analytical model during pre-purchase portfolio due diligence, their team focuses on achieving appropriate financial returns while ensuring the best possible experience for consumers. They are an RMAI Certified Receivables Business.
Recently, Crown Asset Management, LLC announced their 2021 Agency of the Year and Firm of the Year awards. The Award Winners were selected from the company's national network of partner collection agencies and law firms. The award selection process consists of an annual review completed at the start of each new year after the finalization of all performance reviews, compliance audits, and evaluations from the previous year. The Crown leadership team compiles and unifies the quantifiable data to develop a final overall score reflecting the year's big-picture performance.
While all of the company's trusted partners must operate "above par" to be onboarded and maintained as part of the network, these awards honor and reward exceptional consistency and excellence. These professional organizations demonstrated outstanding standards of compliance, consistently reflected ethical and honorable practices, and delivered superior results. This year, one collection agency and two law firms received the highly regarded annual recognition for their business practices and commitment to the integrity of our industry.
Honorable Mentions
D&A Services, LLC – Agency 2nd Place
D&A Services, LLC is a multi-state asset recovery company serving the needs of national, state, and local financial institutions throughout the United States.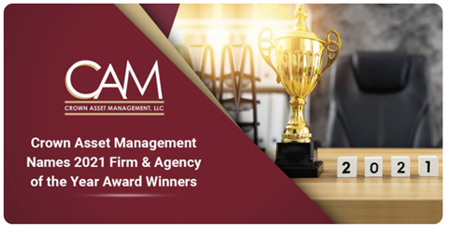 Source: https://www.crownasset.com/crown-asset-management-names-2021-firm-agency-of-the-year-award-winners/